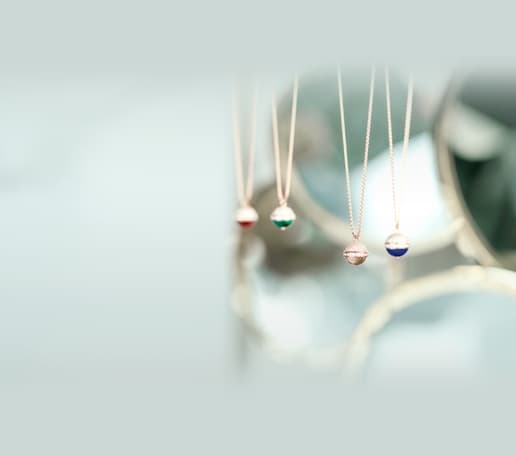 POSSESSION
An infinitely playful design
A watchmaking and jewellery brand imbued with daring, Piaget applied its expert know-how to bring an original concept to life in 1990 – that of a ring turning freely around its companion when caressed between the fingers. This elegantly mastered technical feat marked the starting point for one of the Maison's starring collections: Possession.
This luxury moving jewel was soon adapted into gold earrings, diamond bracelets and rose gold pendants. Colour came to the party, too, through the use of ornamental stones such as onyx, malachite, turquoise, carnelian and lapis lazuli.
Colour is a fundamental element of the Maison's creativity. Its unique savoir-faire in materials began to be developed in the early 1960s, with watch dials in striking tones. This skill involves cutting the stones to minute thicknesses, at times less than a millimetre, with each manipulation redoubling previous efforts.
Possession benefits from these techniques defined in the brand's DNA, letting loose a palette of rare vivacity. The common denominator in each of the collection's luxury jewels is gold. It alone evokes the allure of the privileged relation between a gold jewel and its owner.
The turning of the ring is an equally playful and addictive gesture. Piaget succeeded in transferring it to luxury women's watches by imagining a rotating bezel. Depending on the model, whether gem-set or a cuff watch carved from textured Milanese mesh, creating such a bezel represents a veritable tour de force.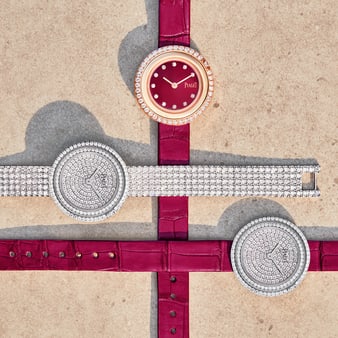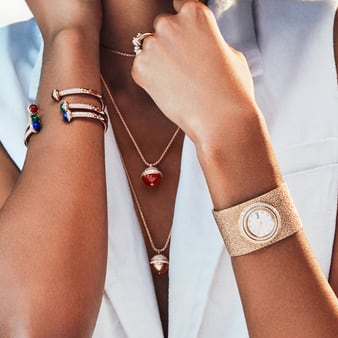 The bracelets of gold watches also become a canvas for play, decked out in saturated tones full of energy. Interchangeable, they match the moods and watchwords of a liberated collection.
In 2019, Possession luxury watches invested in the realm of High Jewellery with an exceptional piece whose dial and case are entirely diamond-paved and whose bracelet is a known as a "river of diamonds". Despite the complexity of its structure, housing an impressive number of stones, the latter maintains an astonishing suppleness and clings to the wrist like a second skin. Possession...
With one turn, everything fills with light.