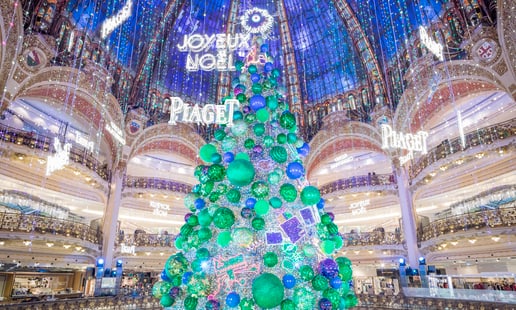 Christmas at the Galeries Lafayette
JESSICA CHASTAIN SHINES DURING THE INAUGURATION OF THE PIAGET CHRISTMAS TREE AT THE GALERIES LAFAYETTE HAUSSMANN
For the holiday season, Piaget and the Galeries Lafayette decorate and light up the Christmas tree and the Christmas windows of the Boulevard Haussmann. Jessica Chastain, international ambassador of the Maison Piaget, kicked off the Christmas party at the Galeries Lafayette. She was wearing a Piaget diamond necklace set with a mesmerizing spinel from the Secrets and Lights High Jewellery collection.
Galeries Lafayette Haussmann and Piaget dream up the grand Christmas Tree under the enchanting dome. This internationally renowned setting is the perfect place to share joy with friends and family, transporting guests to a children's fantasy world. Wire structures, decorated and lit up, form spectacular characters to complete the festive scene.
Aurora borealis-style lights create a unique, magical ambiance around the magnificent tree. Every half-hour the lights of the dome will switch off, allowing a constellation of radiant stars around the tree to be seen. Guests will be then be able to admire the magical, illuminated Piaget Big Christmas Tree, before attending an exclusive show by musical group Kids United Nouvelle Génération.
The officials of the Galerie Lafayette and the Maison Piaget also inaugurated the showcases in the evening. Jessica Chastain joined the team to unveil the beautiful Christmas window showcase dedicated to Piaget.
As Christmas approaches the Maison Piaget also specially created for Christmas at the Galerie Lafayette's a pop-up store perfectly depicting the Sunny Side of Life's theme. It offers the clients exclusive Piaget Possession creations with malachite.