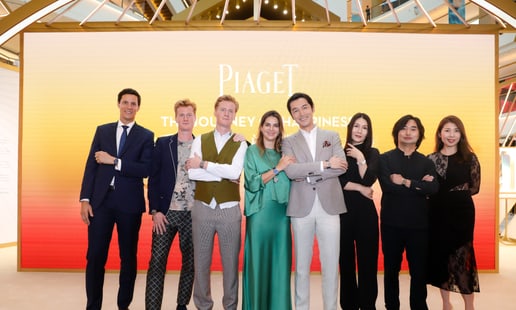 29/09/19
The Journey of Happiness
Piaget unveils "The Journey of Happiness" Art Exhibition
"The Journey of Happiness" Art Exhibition held by Piaget, the Swiss jeweller and watchmaker, was unveiled at Plaza 66 in Shanghai. Piaget collaborated with three groups of contemporary artists to present the concept of "The Journey of Happiness" in four chapters, bringing an exceptional exhibition which demonstrates both the aesthetics and philosophy of Piaget to China.
The CEO of Piaget Mrs. Chabnam NOURI, Managing Director of Piaget China Mr. Mathieu DELMAS, Piaget International Brand Ambassador Mr. HU Ge, General Manager of Shanghai Hang Lung Plaza 66 Ms. Vera HU, Dutch artists The Verhoeven Twins, Chinese artists Ms. HUANG Ying and Mr. LU Zhigang all attended the opening ceremony, and shared their intepretation of "The Journey of Happiness".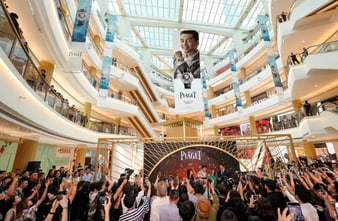 In addition, the new campaign video for Piaget Altiplano ultra-thin watches collection starring HU Ge was also officially launched at the event.
In the new campaign video, HU Ge wears an Altiplano ultra-thin watch all the time, from business occasions to leisure hours. The campaign also shows a scene where HU Ge is brainstorming and collaborating with others, perfectly reflecting the theme of The Journey of Happiness" – where craftsmanship and heritage meets art through collaboration.
Piaget's International Brand Ambassador HU Ge completed his sophisticated outfit with the 900P Altiplano ultra-thin rose gold diamond watch. He shared his interpretation about The Journey of Happiness; he believes that people can reach their goals with optimism and effort. HU Ge's attitude towards life is also Piaget's brand philosophy and the concept of "The Journey of Happiness" art exhibition: to always believe in The Sunny Side of Life and to always respond to challenges with a positive attitude.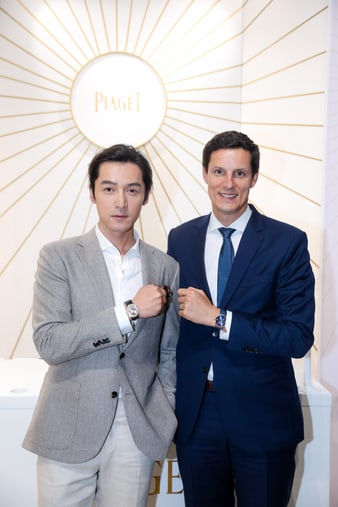 "Since 1874, Piaget has always practiced the motto 'always do better than necessary'. Our pursuit of perfection drives us to continuously create extraordinary pieces. Piaget strongly believes in creative minds and artistic values. Over the years, Piaget has collaborated with renowned artists such as Salvador Dali. Through this exhibition, we hope to share 'The Sunny Side of Life' brand philosophy, our heritage and our exquisite craftsmanship from more than a hundred years ago, as well as to discover more possibilities between Piaget and Art," said Piaget CEO Chabnam NOURI.
Seek and Shine
Dutch artists The Verhoeven Twins , Chinese artists HUANG Ying and LU Zhigang have joined Piaget in this exhibition and demonstrated their understanding of "The Journey of Happiness" through three exceptional tailor-made art master pieces along with the Altiplano ultra-thin watches collection. Artworks together with luxury watches pay a true tribute to Piaget's delicate craftsmanship through the Art of Colour, Art of Light, Art of Gold, and Art of Movement.
Pursue and Salute
In the first chapter "Pursuit of Happiness," Chinese artist Mr. LU Zhigang designed the "Endless Tower" to echo Piaget's Art of Gold. The golden "Endless Tower" symbolised the endless pursuit of happiness and perfection. The use of gold also symbolizes the preciousness of time.
Since 1957, Piaget has been committed to working exclusively in gold. Piaget has developed unmatched goldsmith expertise and has created many marvelous pieces.
In the "Endless Tower", Mr. LU Zhigang integrated a philosophical concept with his artistic skills to create a unique aesthetic space, a tribute to perfection.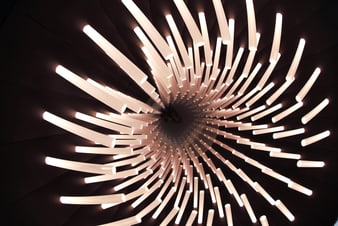 Treasure and Preserve
Time is ephemeral and the dazzling moments throughout The Journey of Happiness are treasures to be collected. The Verhoeven Twins created the "Moments of Happiness II" to illustrate the second chapter of their first collaboration with Piaget which took place in Venice earlier this year. Bubbles, ingeniously made from borosilicate glass, symbolize the happy yet fleeting moments in life.
Responding to Piaget's Art of Light, the artists capture the moments of happiness using glass bubbles that reflect various lights, in a similar way to how Piaget's exquisite craftsmanship releases the ultimate radiance of precious stone.
They also incorporated gold into their work to echo Piaget's savoir-faire in gold craftsmanship. The artwork represents the precious moments throughout the journey and echoes Piaget's brand philosophy "The Sunny Side of Life".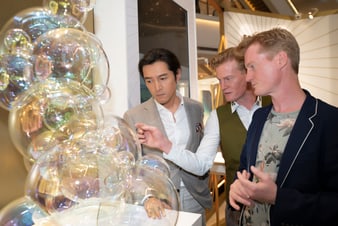 Look Back and Reflect
For the third chapter "Reflection of Happiness", Chinese artist Mrs. HUANG Ying created a multi-space that deeply integrates the virtual and the real, where a parallel world lies in between. Through the reflection of light, "My Mirrored Realm" creates infinitely changing and overlapping colors.
Inspired by Piaget's Art of Colour, "My Mirrored Realm" captures changes of light to create a dream space. Here, time flows, stars fly, flowers bloom, and colors spill, as if we are in the endless universe. The Art of Colour and Light create a marvelous effect which matches the pursuit of Piaget. Highly skilled in combining different precious materials with exquisite craftsmanship, Piaget has created splendid jewellery and watches while constantly striving to reach new breakthroughs.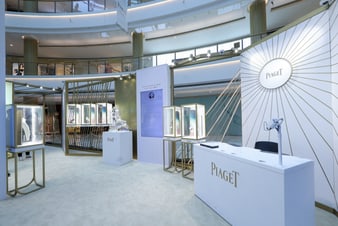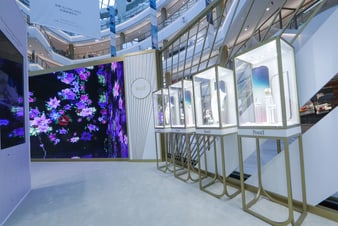 Accompany and Witness
In the fourth chapter of the exhibition "Witness of Happiness ", the brand's iconic Piaget Altiplano collection and many precious patrimony pieces are also exhibited, which are the epitome of Piaget's extraordinary watchmaking skills and jewellery craftsmanship. The watches are the evidence and witness of each breakthrough along life's long journey.
Named in tribute to the eponymous high-altitude plateau of the Andes Cordillera mountain range, Piaget Altiplano collection demostrates absolute aesthetic excellence and sophisticated craftsmanship. HU Ge's favorite, the Altiplano 900P watch, showcases an ulra-thin movement and exceptional design.
Precious Piaget patrimony pieces were also displayed in the exhibition, shining in fascinating colors and dazzling sparkles. Piaget combines exquisite cutting and setting skills with excellent watchmaking technology to make numerous one-of-a-kind pieces.