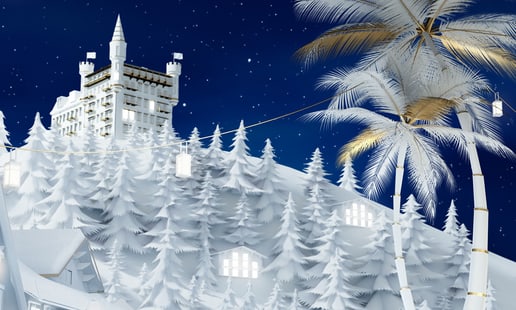 PIAGET'S HOLIDAY SEASON 2017
A DAZZLING SHOW OF LIGHT
s skiers come down the white moonlit mountains during an Alpine torchlight descent, in the heart of a picturesque village, friends gather inside for champagne. On a clear winter's night, a group of radiant people celebrate in the magnificent Palace Hotel. It may be cold outside, but inside, a flurry of diamonds sparkles and colourful gemstones glow in the candlelight. All signs that another holiday season has begun in the romantic village of Gstaad, a small gem perched atop the Swiss Alps.
Ever since the 1960s, the Piaget Society has been gathering in this winter resort, bound by their love of beauty, originality and their unbridled passion for life. Inspired by the aura of Gstaad and its enchanting lifestyle, Piaget has curated a wish list of special gifts just in time for the holidays. An invitation to embrace the spirit of the winter season with style, and take in the elegant and joyful festivities of an unforgettable Piaget holiday.
COMING TOGETHER FOR THE HOLIDAYS
The skis and toboggans have been retired for the day. Around the fire, friends and family reminisce about a fun-filled day spent up the mountain sipping on chilled champagne. Once everyone is together, the party can get started. The table is set for a night to remember. In the warm light of the Gstaad Palace, elegant evening outfits have replaced ski attire. Stacked colourful gold bangles and dazzling diamond-set watches with matching bracelets, Piaget pieces are worn in twos and threes this holiday season. Because after all, everything is more festive when you are in good company.
All the gifts are magnificently wrapped and lovingly placed under the tree. The final guests have arrived and the celebrations can begin. A collection of special Piaget gifts will make this holiday season a very stylish one. So surprise, delight and be merry.
Happy Holidays with the Piaget Society!