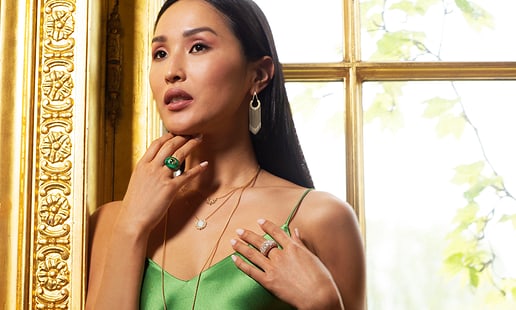 A New Ray of Sunshine: Nicole Warne becomes friend of Piaget
Nicole Warne is considered one of the leading digital influencers internationally, with an audience of over 2.3 million. Having established a successful e-commerce and digital business by the age of 20, Nicole has gone on to be one of the most sought after creatives in the digital space.
Nicole has been recognized in the FORBES '30 Under 30' and Business of Fashion's '#BoF500: The People Shaping the Global Industry' (2015, 2016, 2017). As a respected member of the global fashion community, Nicole was a guest judge for the inaugural Forbes '30 Under 30' list (2019) and the Woolmark Prize (2017). She has also been the official presenter for Mercedes-Benz Fashion Week Australia twice, which was livestreamed globally, and made several television appearances, including Asia's Next Top Model where she acted as a mentor and guest judge.
Firmly established in the digital space, Nicole has been recognized by traditional media for her progressiveness as a digital pioneer, and has appeared on the cover of several magazines including; VOGUE, ELLE, Harper's BAZAAR, L'Officiel, Marie Claire, and Grazia, just to name a few. She has also been celebrated for her personal style, winning INSTYLE and ELLE Style Awards.
I'm thrilled to be joining Piaget, a respected and renowned leader in the luxury space, as Friend of the Brand. Piaget's core values in design, craftsmanship, and art resonate with me and my style. I am excited to embark on the next chapter; creating and sharing alongside a brand I love.

Nicole Warne, new friend of Piaget
She is an ambassador for Adopt Change, a charity that works to change legislation in Australia around adoption so that more children can find a permanent home, a cause that is close to her heart as she is adopted herself. She's passionate about the environment, holistic health, animal rights and human rights.
Nicole is Japanese and South Korean but was raised in Australia. She currently resides in New York City, and when she isn't traveling between America, Europe and Asia, she can be found in the little seaside town, North Avoca, on Australia's east coast, with husband Luke Shadbolt and their cat, Yumi. Nicole started her career as a fashion intern at Grazia and Harper's Bazaar Australia whilst studying business at college and working full-time. After an inspiring trip to Tokyo, she opened her e-bay store and blog, Gary Pepper Vintage, which sold vintage clothing and accessories and would be the stepping stones for her career trajectory.
Nicole often cites her parents as her role models. Growing up with her two siblings, her parents would often start new businesses with a positive "What's the worst that could happen?" attitude. This instilled in her a strong perseverance, independence and work ethic from an early age.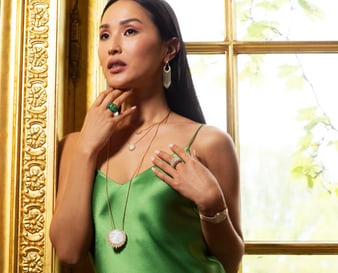 When asked what inspires her she credits meeting her followers from around the world and being surrounded by nature. She loves being outdoors and has hiked through some of the most scenic destinations in the world. Nicole hopes the fashion industry, and all industries, can find more ways to support a more sustainable and ethical approach to their practices and help reduce their carbon footprint.
Together with this announcement, Piaget is also delighted to share behind-the-scenes footage and an image of Nicole Warne wearing Piaget's latest Sunlight collection. Shot in New York during the spring, the content showcases Nicole in various moments during a Piaget photoshoot.
We are very pleased that Nicole is joining the Piaget Society. Her creativity and audacious style reflect Piaget's core values. We are very much looking forward to working hand in hand with Nicole on bringing the spirit of Piaget to the digital world!

Chabi Nouri, CEO of Piaget.
Interested in one of those creations ?
Contact us and we will come back to you as soon as possible