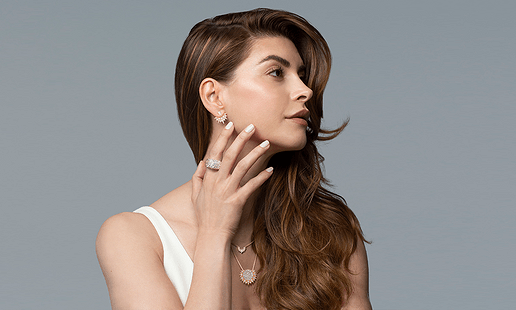 Shiva Safai: Friend of Piaget
We are thrilled to welcome Shiva Safai to the Piaget family as a friend of the brand.
Model. Influencer. Entrepreneur. Style Icon and New Friend of the Brand for Piaget. These are just a few of the words that have been used to describe the strikingly beautiful, Shiva Safai.
Shiva was born in Iran and raised in Norway. She moved to Los Angeles where she is now based, at the age of 19. Just two years later Shiva founded her first company, which she ran for nearly a decade.
With her classic elegant style, Shiva has become renown as a style icon and has graced several international magazine covers. She has hosted LA Fashion Week and has made guest appearances in several US television shows. In 2016 Harper's Bazaar Arabia recognized Shiva as one of their best- dressed, securing her reputation as an International Style Icon. In 2018, Forbes US reported "this Instagram Influencer is building a lifestyle brand through beauty and fashion".
Like for Piaget, philanthropy is important to Shiva and she supports organizations that support women's and children's health and education. Piaget looks forward to supporting Shiva in her charitable projects.
We are so happy to welcome Shiva to the Piaget family as a Friend of the Brand. Her timeless personal style perfectly expresses the essence of Piaget's creations. Moreover, Shiva exemplifies today's Piaget woman who is classic and elegant, yet bold, stylish and confident!

Chabi Nouri, CEO of Piaget.
Together with this announcement, Piaget is also delighted to share behind-the-scenes footage and two images of Shiva Safai wearing Piaget's latest Sunlight collection. Shot in New York during the spring, the content showcases Shiva in various moments during a Piaget photoshoot.
I am thrilled to join the Piaget Society! Piaget is a brand whose captivating playfulness I have long admired. Its elegant designs elevate any outfit and should be the finishing touch for every stylish woman!

Shiva Safai, a new friend of Piaget
Interested in a creation?
Contact us. We will be delighted to help you.