SUNLIGHT JOURNEY HIGH JEWELLERY
THE SCENIC BEAUTY OF THE AMALFI COAST
A COLLECTION THAT FEATURES HIGH JEWELLERY, JEWELLERY WATCHES AND ART & EXCELLENCE IS ALWAYS A JOURNEY TO THE FRONTIERS OF INFLUENCES AND DESIRES THAT NURTURE A VISION OF MATERIALS, MOTIFS AND LIGHTS.
This exploration often creates the most lingering emotions, even if they were to last only one day… Sunlight Journey is therefore an escapade punctuated by the path of the sun and the moods it creates, alternating between gentle meanderings, joyful effervescence and dazzling radiance.
Piaget's newest collection draws inspiration from the scenic beauty of the Amalfi Coast. A land of fire, volcanoes, and azure blue seas; a land bathed in light, a land where the natural elements unite with strength and passion. A land rich in culture and artistic expressions; a land of exchanges and sharing, where life itself is regarded as an intense and refined work of art, echoing the 'art of living' locations so greatly prized by the Piaget Society.
Each time of day produces its own light and its distinctive vibe, in which jewellery and watchmaking creations bloom in dazzling colours thanks to the use of exceptional gems such as blue sapphires and yellow diamonds. A journey expressed through a unique path to the heart of many skills cultivated by the Maison Piaget.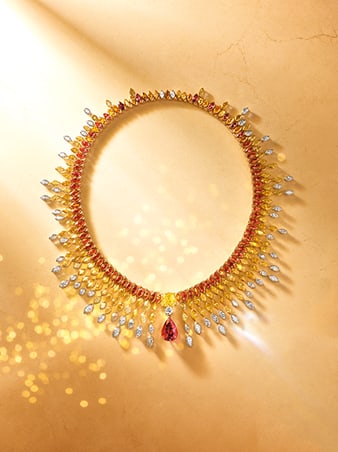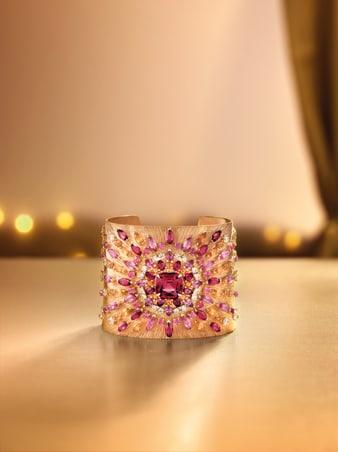 SECRETS OF DAWN
Just after dawn, when sea and sky appear to merge in misty shades of grey, beige and pink, a lucky few stroll along the beach in search of new impressions and are treated to the first bursts of sunlight dappling the surface of water, creating a magical sparkle. The initial stopover of this escape to Mediterranean lands is clothed in pink gold and adorned with white opals and Paraiba tourmalines. Two bathers leave the calm waters and begin to look for treasures buried in the sand, delighting in the pleasure of losing any notion of time.
Then the dawn breaks and gradually reveals the beauty of the world. Fascinating haute horlogerie watches, featuring dials adorned with variously shaded white opals form sceneries composed of billowing clouds and foam that inspire dreams and fantasy (G0A42188). Certain watches have captured these images in memory of a summer stroll, by using original materials such as eggshell mosaic (G0A42199) for their dial decoration.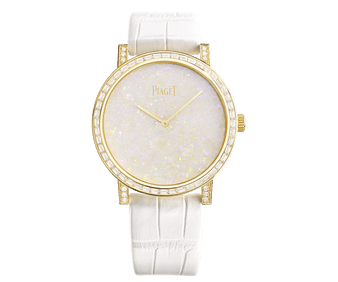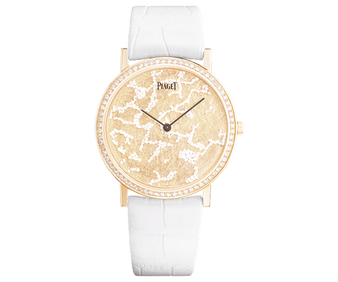 MIDDAY FESTIVAL


High in the sky, the sun illuminates a land of contrasts and thrilling visual effects. The rocks appear carved like rough gems, tracing a random path along the cliffs, beyond which extend infinite stretches of sky and sea. The gaze is carried away by a symphony of sapphire and lapis lazuli blues and emerald greens. A convertible car has just stopped by the roadside to enable a couple in love with the South to step out and enjoy the view across the Mediterranean from a stone balcony.
Each of the elements composing this natural setting, lit up by the sun, delivers a series of tableaus featuring a flamboyant aesthetic. This pair of diamond earrings (G38N2800) echoes the geography of distant islands, lost in a sea of black opal. They are an open invitation to plunge into the heart of summer. A noon swimmer glides gracefully through the water with this marvellous creation encircling her neck. Reclining on a deck chair, a young woman plays with a necklace sparkling with an oval-cut Ceylon sapphire (G37N2300). Mimicking the shimmer of the sun across the surface of the water thanks to its shower of diamonds, it beckons her to the shoreline.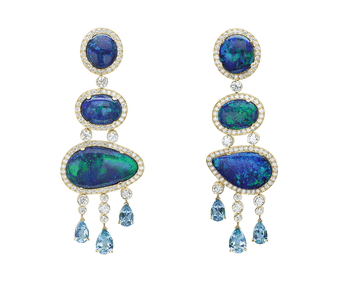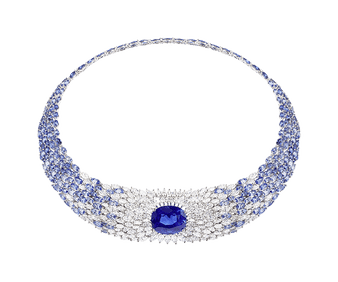 Beach games continue despite the increasing heat. Bursts of laughter can be heard. Mosaic effects magnify the splendidly varied shades of the sea: gems reproduce the movement of a wave rippling over a watch, a one-of-a-kind creation embracing the wrist with its asymmetrical charm (G0A42250). A diamond necklace set with sapphires and black opals, and crowned by an emerald-cut blue sapphire that shines with unique radiance like waves lapping against the shore (G37N3500). The young woman wearing it revels in its refreshing look and feel on her skin.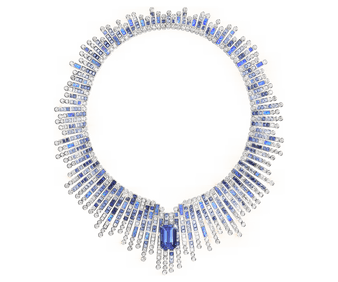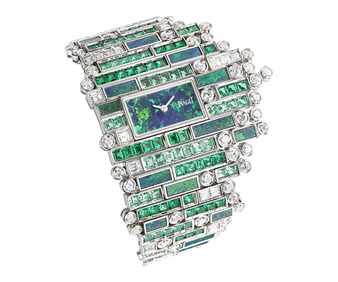 NIGHTFALL CELEBRATION
The heat of the afternoon sun gradually subsides. Gardens take on vibrant colours and exude fragrant scents. Women shine in flowing dresses painted with flowers.
Lavish pink bougainvillea encircles the dial, meticulously crafted of micro-mosaic, taking on an intense and luminous fuchsia pink hue (G0A42194). The sky is clothed in orange, pink and gold and the sun glows in all its majesty one last time before dipping beneath the horizon, like this cuff-watch adorned with a purplish pink spinel. It radiates colourful beams of pink sapphires and red spinels (G36M5600).
This flaming sky spells the start of a festive evening, where everything will be lived with the greatest intensity. Luminously resistant to nightfall, a cushion-shape yellow diamond glows with spectacular radiance in the company of red spinels, yellow and white diamonds (G37N1700).
And sometimes, away from prying eyes, in the darkness well suited to confidential whispers, a ring will reveal its own secret: skilfully crafted feather marquetry embellished with purple sapphires, red spinels and diamonds (G34HR400), representing yet another treasure amid a world of pure beauty in the midst of summer.
THIS INFINITELY SUN-KISSED DAY DRAWS TO A CLOSE, AS THE IMPRESSION OF HAVING ACCOMPLISHED A LONG AND BEAUTIFUL JOURNEY ALREADY NURTURES NEW DREAMS OF TREASURES TO COME.