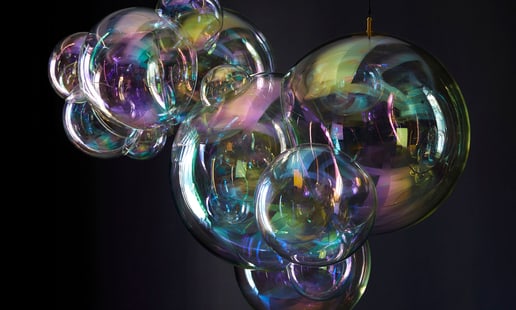 VENICE BIENNALE
VERHOEVEN TWINS - THE CARPENTERS WORKSHOP GALLERY
We are thrilled to present our masterpiece "Moments of Happiness" created by The Verhoeven Twins, Dutch artists represented by The Carpenters Workshop Gallery. "Moments of Happiness" is featured at the exhibition "Dysfunctional" at Galleria Giorgio Franchetti alla Ca' d'Oro during La Biennale di Venezia 2019.
"Moments of Happiness" fuses time-honoured symbolism and cutting-edge technology to create a sculpture of startling beauty. Bubbles appear throughout art history as an image of transience, most famously in Chardin's Soap Bubbles (c. 1733-34), which depicts a boy blowing a bubble while another watches. The Verhoeven Twins have created a unique cultural artefact by transforming a symbolic image of brevity into an enduring object. The pair also attempt to capture a youthful innocence and playful spirit through their work; for the artists' bubbles come to represent the beauty of life. Being a Maison with a contagious energy, it is both an attitude and a vocation for us to always see the "Sunny Side of Life". It is the desire of each of our creations to express this shared joy and playfulness.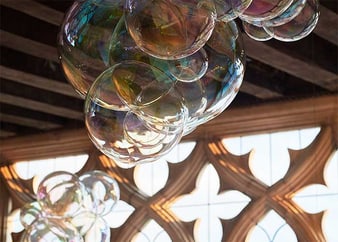 "Moments of Happiness" is composed of multiple borosilicate glass bubbles with an iridescent oil effect that create an aerial sculpture of aesthetic beauty. The artists have for the first time incorporated gold into their work to echo our savoir-faire in gold craftsmanship.
The method to make the bubbles emerged only after years of research by the twins. Borosilicate glass is the most stable and transparent glass made by man. Craftsmen in Italy who are accustomed to working on jewellery precision cut the glass into a complex structure that results in an exceptionally strong creation.
Over the years, we have collaborated with artists such as Andy Warhol, Salvador Dali, Richard Avedon and Arman to name a few. We strongly believed in creative minds and artistic values. Using raw materials and strong craftsmanship, we developed our own style; mastering the use of gold, exploring colours, innovating new shapes, using precious gems and hard stone dials. Gold is at the heart of our creations and has always inspired our craftsmen who work with this precious material in our workshop called "Les Ateliers de l'Extraordinaire" where the precious metal is the foundation. Building on over 140 years of history, we continue to innovate by offering in-motion, elegant and extravagant creations. In a world unconstrained by boundaries, we continue to explore unexpected creative possibilities, turning gold, stones and gems into brilliant works of art.
The Verhoeven Twins
Jeroen and Joep Verhoeven are Dutch artists who live and work in Amsterdam. Their work combines the fantastic with the practical: it is function-and-form turned into mystical narrative, where the supple feather-light impressions of dreams become objects that we can see, touch and most importantly use in our everyday lives.
The Verhoeven's work is in several public and private collections, including the Art Gallery of Western Australia, Perth; the Brooklyn Museum, New York; Die Neue Sammlung in Munich, The Museum of Modern Art, New York; Victoria and Albert Museum, London; Centre Pompidou, Paris; and has most recently been acquired by The Corning Museum of Glass.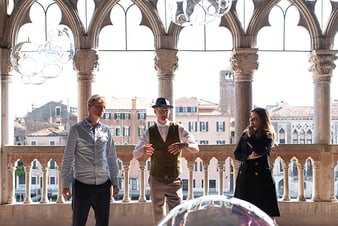 The Carpenters Workshop Gallery
From Functional Art to Collectible Design, today Carpenters Workshop Gallery produces and exhibits functional sculptures by international rising and established artists or designers going outside their traditional territories of expression. Actively involved in the research and production of limited edition works, the gallery's choices are guided by seeking an emotional, artistic and historical relevance and by breaking boundaries between art and design. The gallery relies on the partnership of childhood friends, Julien Lombrail and Loic le Gaillard. They first opened a space in London's Chelsea in 2006 in a former carpenter's workshop; they now operate four galleries globally in London, Paris, New York, and more recently in San Francisco. In 2015, the gallery opened the Workshop in Roissy, a unique 8,000 square meters space dedicated to artistic research bringing together the elite of artisans. Today, Carpenters Workshop Gallery is recognized as a leading gallery for contemporary collectible design.
DYSFUNCTIONAL
DYSFUNCTIONAL seeks to forget function whilst celebrating the power of artistic expression. The idea of dysfunction, defined as 'the disruption of normal social relations', invites visitors to rethink the conventional relationship between form and function, art and design, the historical and the modern.
Julien Lombrail and Loic Le Gaillard, co-founders of Carpenters Workshop Gallery, comment: "We purposely decided to stage DYSFUNCTIONAL during the world's most important art exhibition, the Venice Art Biennale, to question what defines an artwork, why can artworks not be functional and when does design become art? All works are an expression or application of tremendous creative skill, to be appreciated for their beauty, imaginative or emotional power. In partnership with Lombard Odier, with whom we share the same vision, we want to invite visitors to go on an immersive journey in time and explore the blurred lines between art and design in the context of the rich Venetian heritage."
We are storytellers, from fantasy to factory, from statement to product.

The Verhoeven Twins