Boutique exclusivity

Possession watch, 29 mm. Case in 18K rose gold set with 42 brilliant-cut diamonds (approx. 1.04 ct). Natural lapis lazuli dial. Watch with interchangeable strap. Piaget 56P quartz movement.
Watch G0A44186
21 600
€
21 600
€
20 900
€
166 000
DKK
22 100
€
21 800
€
22 000
€
225 000
SEK
21 400
€
Possession watch

Women's watch in rose gold and diamonds. Natural lapis lazuli dial. Rotating bezel. Interchangeable lapis blue alligator-skin strap. To celebrate life's glorious moments, the turning rings of the Possession watch are illuminated with an ornamental stone dial in bold, vibrant colors. An icon in motion, this rose gold watch with a diamond-set bezel features a lapis lazuli dial. Its matching lapis blue alligator-skin strap with a rose gold ardillon buckle incorporates an ingenious interchangeable system, allowing the wearer to change its style according to her mood. This luxury women's watch is exclusively available in Piaget Boutiques.

Diamond watch - rose gold - lapis lazuli

Watch product type:

Watch

Metal:

Rose gold

Metal weight:

26.97 g

Strap type:

Alligator

Strap colour:

Blue

Strap buckle:

Ardillon buckle

Case shape:

Round

Case diameter:

29 mm

Case thickness:

7.47 mm

Dial material:

Fine stones

Waterproofness:

03 ATM

Specificities:

Rotating bezel

Movement:

Quartz

Precious stones:

Diamond

Semi-precious stones:

Lapis lazuli

*Piaget luxury watches and jewellery are individually produced and thus the weight and carats of each product can vary from the displayed data.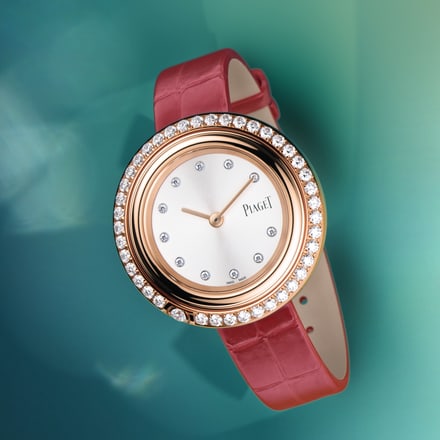 TURN FOR THE EXTRAORDINARY
Colourful, playful, joyful. A unique series of jewels and watches that turns life into Extraordinary moments.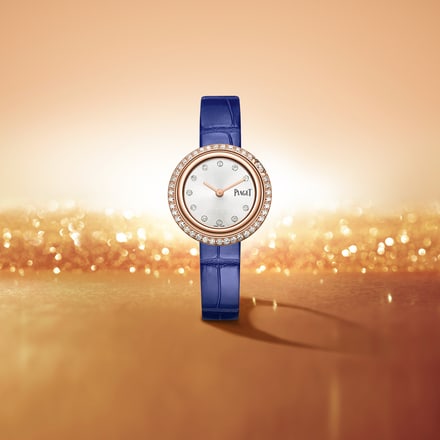 Possession Watches
Luxury watches for those who make the world follow their own pace