Limited series

Boutique exclusivity

Possession watch, 29 mm. Case in 18K yellow gold set with 110 brilliant-cut diamonds (approx. 1.17 ct). Dial set with 224 brilliant-cut diamonds (approx. 0.78 ct). Interchangeable strap. Piaget 56 quartz movement. Limited edition of 130.
Watch G0A45070
32 100
€
32 100
€
31 100
€
247 000
DKK
32 900
€
32 400
€
32 700
€
334 000
SEK
31 800
€
Possession watch

Celebrate 30 years of the Possession collection with this limited edition yellow gold diamond watch. Experience the endlessly turning sparkle and glamour while playing with this anniversary edition of the Possession watch. Taking inspiration from the 1990 original jewellery creations in yellow gold with a gem-set bezel turning around the dial. A delicate decoration featuring an elegant texture that plays with the light. From the collection inspired by freedom and playful creativity, this yellow gold diamond watch has an interchangeable strap so you can match your mood. It is perfectly complemented with the yellow gold open bangles from the 30th anniversary jewellery collection.

Diamond watch - yellow gold

Watch product type:

Watch

Metal:

Yellow gold

Metal weight:

30.2 g

Strap type:

Alligator

Strap colour:

White

Strap buckle:

Ardillon buckle

Case shape:

Round

Case diameter:

29 mm

Case thickness:

7.47 mm

Dial material:

Precious stones

Dial finishing:

Gem set

Waterproofness:

03 ATM

Specificities:

Rotating bezel

Movement:

Quartz

Precious stones:

Diamond

*Piaget luxury watches and jewellery are individually produced and thus the weight and carats of each product can vary from the displayed data.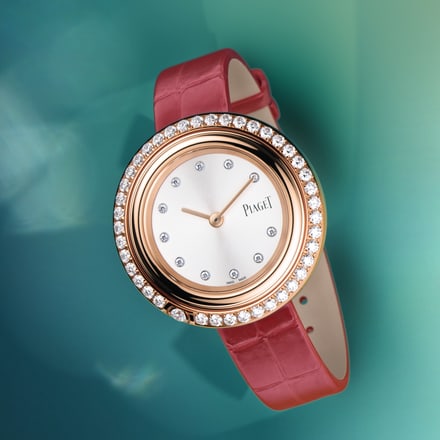 TURN FOR THE EXTRAORDINARY
Colourful, playful, joyful. A unique series of jewels and watches that turns life into Extraordinary moments.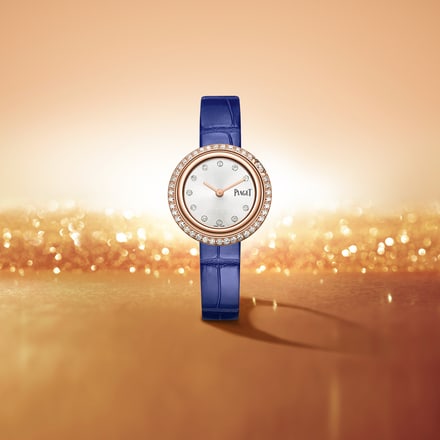 Possession Watches
Luxury watches for those who make the world follow their own pace