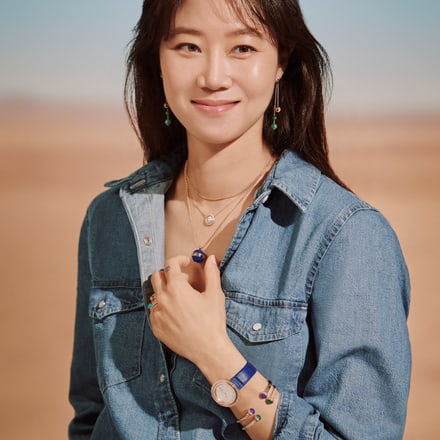 Kong Hyo-Jin & Possession
Actress Kong Hyo-Jin, a writer, designer, and style icon, inspires many people in Asia and embodies Piaget's values through elegance, confidence, and outstanding talent.
Carrying the meaning beyond just a piece of jewellery, Possession is the perfect partner for modern women who want to express themselves and their daring adventures. The diverse colours of Possession capture the feelings, mind, and emotions of the wearer.
Kong Hyo-Jin created a casual and chic appeal by matching a denim shirt and jeans inspired by Possession's dazzling colour palette that expresses a variety of personalities and aesthetics. She added a Possession pendant, bangle, and ring to complete a comfortable and sophisticated look.
Celebrating the 30th anniversary of Possession with Kong Hyo-Jin
This commemorative edition, filled with the bright and positive energy unique to the Possession collection, splendidly highlights the persona of actress Kong Hyo-Jin. Piaget and Kong Hyo-Jin share something in common: they both respect others and are respected by others as well.
For the special edition campaign to celebrate the 30th anniversary of Possession, she paired the large and medium sizes of the Possession yellow gold open bangle bracelet and wore the Possession yellow gold limited edition watch of only 130 pieces.