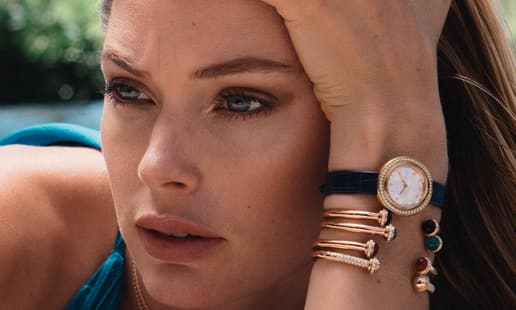 NEW POSSESSION COLLECTION
At the SIHH, Piaget will be celebrating its Sunny Side of Life philosophy with a new collection, Possession. It is not only an ode to joy, to movement and to elegance, but also a whole stylish way of life. A life to be lived as passionately as possible.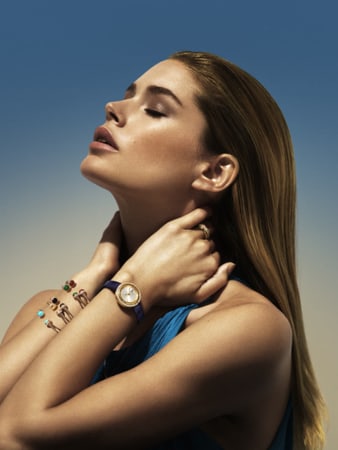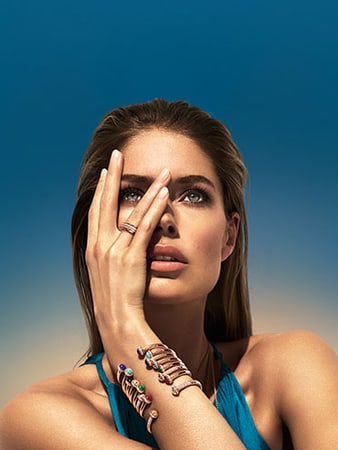 A friend of the Maison and the face of its new print and digital campaign, the internationally-renowned model Doutzen Kroes perfectly embodies the Piaget woman. She is radiant and alluring as the idyllic island of Ibiza, where photographers Mert & Marcus captured her mesmerizing beauty. Adorned with luxury jewelry for women created by the Piaget Manufacture, her life is an ongoing celebration and her innate sense of style speaks for itself. Shot on location, the campaign film follows a day in the life of a jet-set woman who is as radiant as the Piaget Swiss watches for women and luxury jewelry that she wears. Her charisma and radiance is contagious.
POSSESSION WATCHES FOR WOMEN
Other incarnations of the Sunny Side of Life philosophy: the new Possession luxury watches for women. Playful creations which, like the Possession jewels and their revolving rings, symbolize a world that is always in movement. Rotating bezels and revolving rings make the diamonds dance around the dials in a whirling world of exquisite waltzes. Multiplying the combinations of gold, steel and gemstones, Possession watches can also be personalized with interchangeable colored straps. They become the new talisman of the modern, independent woman - those who take on the world head-on and make it follow their own pace.
Because the Piaget woman leads an extremely colorful life, new tones have been introduced to the dials of these luxury watches for women. Bright turquoise, red carnelian, green malachite, and deep blue lapis lazuli: the four shades of these decorative hardstones merge with those of the alligator bracelets or rose gold bezels for a modern, unbridled look. For a more haute couture look, another Piaget watch with a rose gold cuff fitted with a green malachite dial and a bezel bedecked with diamonds takes on the aura of a luxury jewel for women. At Piaget, now more than ever, luxury watchmaking means elegance, perfectly set against the sun's rays.
Collection available in April 2018.
Subscribe to the Piaget Newsletter to receive exclusive news about the launch.