LES ATELIERS DE L'EXTRAORDINAIRE
THE SOURCE OF BEAUTY AND CREATION
In its two Manufactures at La Côte-aux-Fées and Plan-les-Ouates, Piaget brings to life the most unexpected ideas of its designers. Thanks to rare skills that have been preserved, enriched and perpetuated from generation to generation, the extraordinary appears each day in its ateliers. Each luxury watch and jewellery creation is designed and created like a work of art, giving meaning to the motto of the founder, "Always do better than necessary".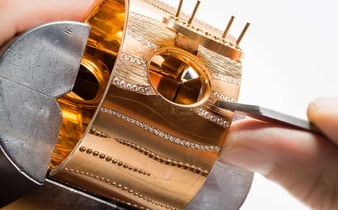 PIAGET HAS REMAINED FAITHFUL TO ITS HISTORICAL HOME OF LA CÔTE-AUX-FÉES.
It is here that exceptional movements, including its iconic ultra-thin calibres, are designed and created. Discreet and secluded, it is a perfect reflection of the activity that happens there. Representing the beating heart of your watch, the movement that leaves the ateliers of La Côte-aux-Fées will always preserve its secrets and inner beauty. For Piaget watchmakers, no detail of the watch you may someday wear is too small to be treated with the utmost care and attention.
Since Piaget set up workshops specialising in goldsmithing and jewellery, the Maison has made Plan-les-Ouates the place where it expresses its creativity and aesthetic sense in gold and gemstones. Here, the precious metal is exalted by artisans, to be transformed into the refined cases, silky bracelets and sumptuous jewellery that you know. Here, gem-setters embellish the Maison's creations with the most beautiful gems. In the ateliers of Plan-les-Ouates on the edge of Geneva, the raw material is transformed. It becomes the most exceptional work of art. The integral mastery of production is profoundly anchored in the culture of Piaget. It constitutes the foundation of its freedom, audacity and demand for excellence.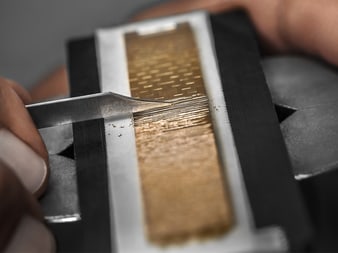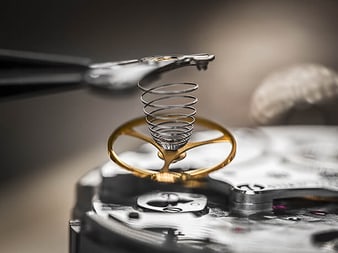 PLAN-LES-OUATES
Gold is king at Plan-les-Ouates Manufacture.
As you may well know, Piaget has deep expertise in working with gold. Piaget artisans work the material in its mass to create the cases that will house the movements. They draw gold out as thin as a wire to create the fine mesh for bracelets that will astonish you with their silky suppleness. And they work its surface – polishing, satin-finishing, accentuating, diamond-finishing and engraving – so that it plays in light in all its subtlety. In the jewellery and high jewellery ateliers, gold converses with precious stones, bringing together different skills through a constant dialogue between designers and gemmologists. Jewellers and gem-setters use their experience, their dexterity and their fine eye to transform a drawing into a glittering creation.
LA CÔTE-AUX-FÉES
Founded in la Côte-aux-Fées in 1874, Piaget designs, creates and assembles its calibres since its origins. With their extremely thin profiles, some as thin as 2,35 mm, calibers meet the criteria of elegance of the Maison. Even in the field of complications or skeletons, finesse remains essential, adding an additional challenge for engineers and watchmakers. Because of its complexity, the ultra-thin demands a particular mastery that is only acquired after many years of practice. A movement may contain as many as 400 components that are the object of meticulous finishing and embellishment. Around fifteen different techniques are used to offer the calibers an aesthetic quality that will be either delightfully revealed or remain hidden within a precious case.