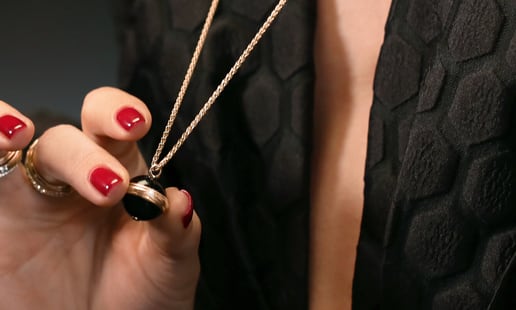 TAKING CARE OF YOUR JEWELLERY
Caring for your Piaget creation will help you preserve its beauty. This section will take you through a few simple ways you can protect your luxury jewellery. You can also get personalized advice from our specialists in our boutiques.
TIPS TO CARE FOR JEWELLERY
Care and protect your Piaget fine jewellery creations with a few simple care tips to keep them shining bright.
Put your jewellery on last, after creams, make-up or fragrances for the perfect finishing touch to your look.

Jewellery can become fragile when you lift or carry heavy objects, keep it away if nobody else can do it for you! Your precious and ornamental stones will stay magnificent as long as you preserve them from intense thermal shocks.

Keep your jewellery gleaming by using a very soft brush dipped in soapy water, then carefully rinsing and drying with a soft cloth. Jewellery with pearls, emeralds or fabric, however, requires more careful care. Please visit your Piaget boutique, we will be delighted to give you more specific advice.

Your necklaces and bracelets will be ready to wear by storing them flat and separate from each other.

Your Piaget creation is precious. If you are concerned about the security of your jewellery settings, please visit your Piaget boutique and we will be delighted to check them for you.
CARING FOR ORNAMENTAL STONE
Precious and ornamental stones are extremely present in the Piaget DNA, and therefore also in many of our creations. These stones are mostly mineral, and demand particular care.
To preserve the beauty of your stone, we advise you to avoid putting it in contact with perfume, soap, chemical products or cosmetics. Exposure to water or high temperatures should also be avoided. When you wish to clean the stone, you should do it with a soft dry cloth. To avoid scratches when storing your creation, it is best to do so in its original box, separate from other jewellery.
If, despite your care, your jewelry remains dull and the gems lacklustre, take it to your Piaget dealer.