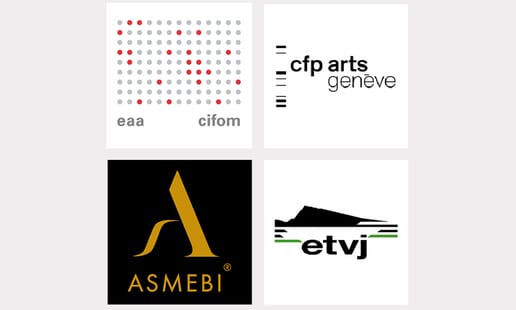 2019 PIAGET PRIX ROMAND FOR BEST DESIGNER AND JEWELLER
Isabelle Poly, granted for the fourteenth consecutive year the Best Designer Award and the Best Jeweler Award on June 25th, during a ceremony at Piaget's Manufacture in Plan-Les-Ouates.
Four years ago Piaget extended this competition, originally intended for Geneva school, to all other Jewellery schools in French Swiss part : le Centre de Formation Professionnelle Arts de Genève (CFP Arts), l'Ecole Technique de la Vallée de Joux (ETVJ), l'Ecole des Arts Appliqués de la Chaux de Fonds (EAA) et l'Association Romande des Métiers de la Bijouterie (ASMEBI).
Fourth year students, 19 this year, worked on both a Design project on "Cocktail theme" and the practical realization of a High Jewellery piece designed by Christopher Lopes, Piaget designer.
The jury is constituted of one member of each school and on Piaget side of Christopher Lopes, Jewellery Designer and Patrick Thabuis, High Jewellery Responsible and all projects are judged anonymously.
For the story, Christopher Lopes won both prize on his 4th year and was spoted during both his internships design and high jewellery and is now part of the Design Studio managed by Stéphanie Sivrière.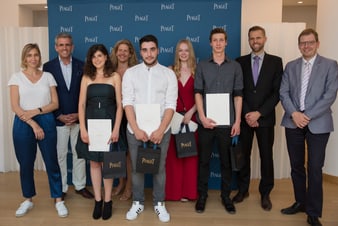 In the front from left to right : Ms Stéphanie Sivrière, Piaget Watch and Jewellery Creation Director, Ms Ramona Habib, 2nd accessit of the Jeweller Award from CFP Arts, M. Daniel Fornos Diaz, winner of the Best Jeweller from CFP Arts, M. Jean Lehnen, Winner of the Best design award from ETVJ et M. Frederic Schutz, Director of ETVJ.
Back from left to right: M. Gilles Miserez, CEO of OFPC, Ms Isabelle Poly, Piaget Corporate Sustainability responsible, Ms Estelle Giguet, 1st accessit of the Jeweller Award from CFP Arts & M. Frederic Ottesen, Director of CFP Arts. 
The Maison Piaget is proud to grant the Best Jeweller Award to Daniel Fornos Diaz, 20 years old, a dual Swiss student at CFP Arts who realized a beautiful ear jewel of an excellent quality according to an artistic drawing drawn by Christopher Lopes.
Daniel is also given the opportunity to do an three-month intership within our Haute Joaillerie workshops.
The Best Designer Award was won by Mr Jean Lehnen, 20 years old, a young Swiss student at ETVJ, particularly rewarded for his excellent artistic and esthetic exploration relative to the "Cocktail" theme.
Jean will be coming for a 2 weeks "Discovery Internship" in the Piaget Studio Design.