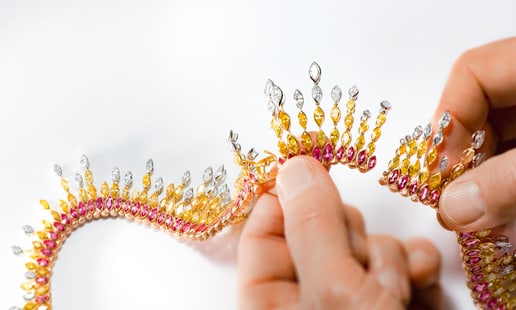 RESPONSIBLE SOURCING
We continuously work on our commitment to ethical behaviours throughout our supply chain, and we collaborate with industry organisations and our business partners to promote and implement the best possible practices across our business.
OUR BUSINESS ETHICS
Business ethics are central to our Maison. As a member of the Responsible Jewellery Council, we aim for responsible ethical, human rights, social and environmental practices across our supply chain. That includes gold, diamonds and coloured stones.
We have been a proud member of this council since 2006, certified against its Code of Practice since 2011. We ask of our suppliers to also be RJC certified and sign our Group Supplier Code of Conduct.
Today, we continue to work closely with the RJC thanks to our seat at the Board of Directors and Chair of Committee.
SUSTAINABLE SUPPLY CHAIN
All of our suppliers are requested to sign the Group Supplier Code of Conduct. This includes 39 principles that cover General Requirements, Responsible Supply Chains, Labour Practices and Human Rights, Environment, Sustainable Product Development, and Application and Compliance.
We ask our suppliers to be more transparent about their own supply chains, and they are expected to encourage their own contractors and vendors to also follow these principles.
The responsible procurement of industry-specific raw material is a priority for us. We work closely with our suppliers and industry partners towards the traceability of all raw materials used in our products, our long-term goal. To reach this objective, Piaget has set in place a policy that clearly defines our position related to the major risks associated with the disrespect of Human rights and financing of conflicts, in accordance with the standards set by the RJC.
GOLD
All fine gold we purchase follows the RJC Chain of Custody Standards. A due diligence process on fine gold, using the applicable OECD Guidelines, is being strengthened under the coordination of the Richemont Group. Its aim is to identify upstream suppliers in order to better assess and control their compliance with the Group Supplier Code of Conduct.
We are asking our suppliers to be RJC Chain of Custody certified by 2022 and are working on getting our own manufactures certified in the meantime.
DIAMOND
Diamonds are at the heart of Piaget's luxury jewellery and watches. We ensure the quality of the diamonds we use by requesting that all our suppliers be RJC Code of Practices certified and respect the KPCS (Kimberley process Certification System agreement), imposing extensive requirements on its member to authenticate shipments of rough diamonds as conflict-free and legitimately traded. Each diamond is tested in order to ensure its naturality and authenticity.
COLORED GEMSTONES
As an active member of the Responsible Jewellery Council, we contributed to the integration of the colored gemstones to the scope of the multi-stakeholder initiative, acted in the 2019 CoP review.
PROTECTED SPECIES
Keeping up with international and local legislation, we help protect biodiversity and animal welfare around the world. We make sure our suppliers comply by international and domestic laws, e.g. the Convention on International Trade of Endangered Species ('CITES').