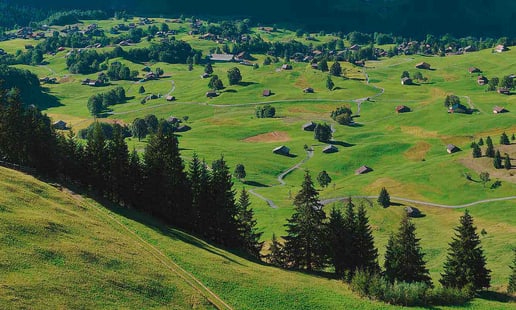 ENVIRONMENTAL ACTION
The forests and meadows of the Neuchâtel Jura region is home to Piaget's manufacture, in the small village of La Côte-aux-Fées, an inspiring setting rich in life and colour. This nature inspires our work and craftsmanship, which is why we are committed to preserve this living treasure. From the use of solar energy, CO2 compensation and improved waste management systems, we strive to minimize our environmental impact. Our priorities include reducing our direct emissions through an optimized management of our building's consumption and reduced travels. Proud of where we've come from, we continuously look for areas of improvement, including the optimization of our supply chain, our next challenge.
TRANSPORT
At Piaget, we ensure we are doing our best to make every part of our business more sustainable. We have reduced car emissions at our Headquarters by 15% thanks to our soft mobility plan. This includes implementing 8 electric-charging parking spaces and our electric bike scheme that allows employees to use them for professional or private journeys. We also make sure that for trips or meetings we are using the most CO2 efficient means of transport, like carpooling or trains.
BUILDINGS
One of our main goals is to reduce our direct CO2 emissions. We have built our Headquarters to meet the Minergie standard for low energy output and high use of renewable energy, set up solar panels on the roof of our Geneva Manufacture, use green electricity in our production facility and encourage commuters to travel in a sustainable way.
BOUTIQUES
The LEED (Leadership in Energy and Environmental Design) certification is an internationally recognised green building certification rating system. We use this to measure the environmental attributes of our facilities. For example, our Boutique in Changsha, China, is our first store to be awarded a Gold LEED certification and we aim to pursue this further in the years to come.
PACKAGING & PAPER
Sustainability is kept in mind through every part of our business, down to the materials we use for all our paper communications, packaging and office paper. We only use FSC (Forest Stewardship Council) wood for our boxes, catalogues and art books. 93% in 2019 of paper and cardboard were from recycled or certified sources and 80% of our obsolete communication materials have been recycled since 2011.
PLASTIC
Our aim is to reduce single-use plastic at every step of our supply chain. We have eliminated it in our boutiques worldwide, as well as at the headquarters and manufacturers. We also offer reusable water flasks to our employees in Switzerland. Our next step is to find packaging solutions for spare-part transportation and consumer packaging.
WASTE
Reduce, Reuse, Recycle: We aim to reduce our non-recyclable waste by 30% by the end of 2020. In 2019 we introduced facilities in our 3 Swiss locations to make use of or recycle waste materials including glass, paper, plastics, organic products, chemicals and metals. We also work with local specialists for more resilient materials.
RESPONSIBLE JEWELLERY COUNCIL
As a member of the RJC since 2005, we are commited to staying on top of environmental management best practices. Every 3 years we have been recertified as a member, most recently in 2017. This council has been vital in promoting responsible ethics, human rights, and social and environmental practices throughout the gold and diamond supply chains.
CARBON NEUTRALITY
In order to offset our carbon footprint, Piaget funds a range of projects across the globe to help protect the environment and help us reach the UN's Sustainable Development Goals (SDGs). These projects range from energy efficiency, renewable energy sources and creating clean drinking water.
Learn more about our various environmental projects.