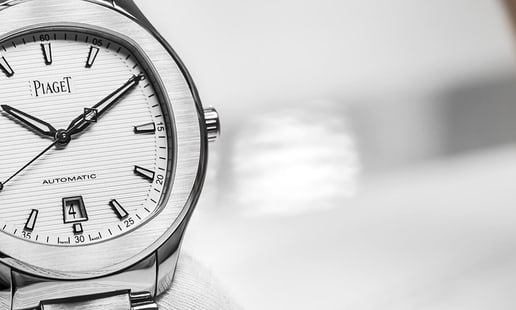 DOCUMENTATION FOR YOUR WATCH
Here you will find all you need for Piaget watch warranties, certificates and manuals.
OUR INTERNATIONAL WARRANTY
Our International Warranty applies to Piaget watches purchased or presented for warranty service in any country.
WHAT OUR WARRANTY COVERS AND FOR HOW LONG
Care and expertise went into your PIAGET watch, respecting PIAGET's strict quality standards. Nevertheless, the watch is covered by this PIAGET International Warranty against defects in manufacturing and materials. Please contact one of the authorized PIAGET Boutiques, authorized retailers or Concierges located around the world (see PIAGET service contacts below) and they will be able to provide warranty service.
PIAGET warrants its product against defects in materials and manufacturing for a period of two (2) years from the date of purchase. If the product is returned during the Warranty period, PIAGET will, at its sole discretion, repair any defective watch and/or replace any defective parts free of charge within a reasonable time after the product is returned. Upon expiration of the Warranty period, any repairs will be subject to a service charge.
HOW TO OBTAIN SERVICE
You may obtain service by bringing or sending the watch to your authorized PIAGET boutique or authorized retailer as further indicated below. You are responsible for transportation costs, including but not limited to postage, insurance and packing materials. We recommend that any shipments to us include certified delivery and insurance.
In order to obtain service through this PIAGET International Warranty, the returned watch must be accompanied by the original Warranty Certificate that was included with the watch at the time of purchase, duly completed, dated, stamped and signed by an authorized PIAGET boutique or authorized retailer, or by the electronic Warranty card which has been activated by the PIAGET boutique or authorized retailer at the time of purchase. Such a certificate may only be filled- out by an authorized PIAGET boutique or authorized retailer.
WHAT IS NOT COVERED UNDER THE PIAGET INTERNATIONAL WARRANTY
The PIAGET International Warranty does not cover:
(a) defects and damages due to loss, theft or fire or other causes beyond our control;
(b) defects and damages resulting from misuse or negligence, or from accident;
(c) defects and damages caused by improper use (knocks, dents, crushing to the case or crystal, etc.), alterations, tampering, dismantling or services and repairs completed by anyone else than an authorized PIAGET service center, or by the use of components other than those recommended by PIAGET.
(d) defects and damages due to normal wear and tear;
(e) any non-metallic straps (leather, rubber synthetic polymer, etc.);
(f) watches where the serial number originally imprinted on the watch case is removed or not clearly legible, or where any part of the original watch back or any original number has been removed, changed, altered, replaced, erased or defaced;
(g) routine maintenance and cleaning.
If your watch is water-resistant, this feature will be guaranteed only if an authorized PIAGET service center has performed the water-resistance test after each opening of the case, for whatever reason.
Additional warranty conditions applicable in the United States of America and Canada only:
PIAGET LIMITED WARRANTY
EXCEPT TO THE EXTENT PROHIBITED BY APPLICABLE LAW, THE PIAGET INTERNATIONAL GUARANTEE SET FORTH ABOVE IS A LIMITED WARRANTY AND SHALL BE THE EXCLUSIVE MANUFACTURER'S WARRANTY IN LIEU OF ANY OTHER EXPRESS WARRANTIES. NEITHER THIS LIMITED WARRANTY NOR ANY OTHER WARRANTIES, WHETHER EXPRESS OR IMPLIED, INCLUDING, BUT NOT LIMITED TO, ANY IMPLIED WARRANTY OF MERCHANTABILITY OR IMPLIED WARRANTY OF FITNESS FOR A PARTICULAR PURPOSE, SHALL EXTEND BEYOND THE PERIOD OF TWO (2) YEARS FROM THE DATE OF PURCHASE. FOR A PERIOD OF TWO (2) YEARS FROM THE DATE OF PURCHASE, PIAGET WILL, IN ITS SOLE DISCRETION, REPAIR ANY DEFECTIVE WATCH AND/OR REPLACE ANY DEFECTIVE PARTS UNDER THE LIMITED WARRANTY FREE OF CHARGE, SUBJECT TO THE RIGHT TO CHARGE FOR SHIPPING COSTS AND SUBJECT TO THE FOLLOWING CONDITIONS:
THE RETURNED WATCH MUST BE ACCOMPANIED BY THE WARRANTY CERTIFICATE (ENCLOSED WITH THE WATCH), DULY COMPLETED, DATED, STAMPED AND SIGNED BY AN AUTHORIZED PIAGET BOU
TIQUE OR AUTHORIZED RETAILER. SUCH CERTIFICATE MAY ONLY BE COMPLETED BY AN AUTHORIZED PIAGET BOUTIQUE OR AUTHORIZED RETAILER. THE SERIAL NUMBER ORIGINALLY IMPRINTED ON THE WATCH CASE IS CLEARLY
LEGIBLE AND NO PART OF THE ORIGINAL WATCH BACK OR ORIGINAL SERIAL NUMBER HAS BEEN REMOVED, CHANGED, AL- TERED, REPLACED, ERASED OR DEFACED. IN ADDITION TO THE FOREGOING, ALL OTHER CONDITIONS SET FORTH IN THE PIAGET INTERNATIONAL GUARANTEE ARE APPLICABLE TO THE PIAGET LIMITED WAR- RANTY IN THE UNITED STATES OF AMERICA AND CANADA.
FAILURE OF ANY OF THESE CONDITIONS VOIDS ALL WARRANTY RIGHTS. THIS WARRANTY IS THE SOLE AND EXCLUSIVE REMEDY. PIAGET SHALL NOT BE LIABLE FOR ANY INCIDENTAL OR CONSEQUENTIAL DAMAGES.
PIAGET does not authorize any distributor or seller of its products to make any warranties beyond this Limited Warranty or to otherwise assume for PIAGET any obligations or liability in connection with the sale or distribution of its products. Some states, provinces or territories do not allow limitations on how long an implied warranty lasts or the exclusion or limitation of incidental or consequential damages, so the above limitations or exclusions may not apply to you. For the United States of America, a warranty claim may be made through authorized PIAGET boutiques or authorized retailers or the PIAGET concierge service (Tel: +1 877 8742438; Email: concierge.usa@piaget.com), or as further specified in "PIAGET service contacts", in each case using the procedure outlined in "How to obtain service".
REPAIR GUARANTEE
Our Technical Department takes special care in repairing Piaget pieces. With each repair, you are given a twenty-four-month guarantee from our After-Sales Service Center. This will cover the cost of labor and spare parts but is distinct from the International Piaget Guarantee received when you purchase your watch.
Problems resulting from accidents, poor treatment, improper or abusive use (impacts, crushing, humidity for non-waterproof watches, etc.), alterations, and manipulations or repairs that were not performed by an authorized Piaget distributor are not covered by this guarantee.
DETAILED GUARANTEE DESCRIPTION
The texts relating to the international guarantee, limited warranty and repair certificates are provided for information purposes only. They do not in themselves constitute effective guarantees. Piaget declines any responsibility in this respect. Only the guarantee certificate duly filled in, dated, stamped and signed by an authorized retailer entitles the holder to benefit from the said guarantee for the corresponding watch.
Counterfeits: no services will be performed on a counterfeit or fake Piaget watch.
Furthermore, Piaget reserves the right not to repair or carry out any service work on watches that have been altered, modified or repaired by a non-Piaget-authorized retailer or service center.
Enjoying your timepiece to the fullest