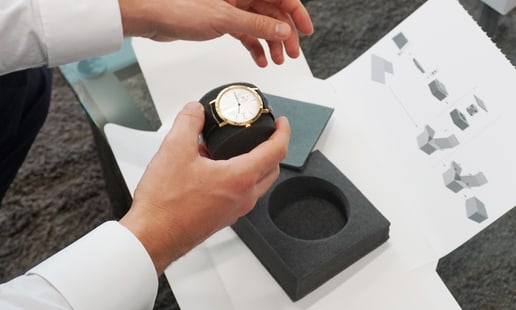 SHIPPING YOUR WATCH
You can organize your watch repair from the comfort of your home by following a few simple steps.
1. CONTACT US
Kindly fill in the Service Request Form and send it by email to our concierge at concierge.usa@piaget.com or contact us by phone at 1-877-874-2438. We will then send you a special prepaid shipping kit.
Only genuine Piaget products are eligible for this service. For the full terms & conditions, please consult our Conditions of Service.
2. PACKING AND SENDING YOUR WATCH
4 steps for sending your watch to us:
Take a picture of your watch (front and back) for your records.
Fill out and sign the Service Request Form.
Follow the instructions of the kit and place your watch in the shipping package, along with the completed and signed request form.

Send it through our carrier along with the prepaid label. We will cover the shipping fees.
3. DIAGNOSIS AND COST ESTIMATE
Upon receipt of your watch, a diagnosis will be performed to determine the type of service required and a cost estimate will be sent to you by email.
4. SERVICING PERFORMED BY OUR EXPERTS
Your approval of the Cost Estimate will be required to be able to proceed with the requested service (unless it is covered by your watch guarantee, in which case your watch will go straight into repair). In the event that you refuse the Cost Estimate, we will not go through with the servicing, and your watch will be returned in the condition we received it, without any additional fees.
5. PAYMENT
Once the intervention is completed and if applicable, you will receive an invoice. Payment can be done easily with our Contact Center, they will get in touch and perform a secured payment after completion of the intervention.
6. DELIVERY
We will proceed with delivering your watch after payment is received. Shipping details will be confirmed by our carrier.